Cash Bandits Slots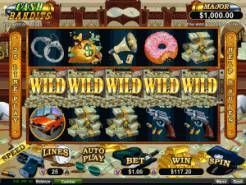 Current Jackpot
$4,111.55
Play Now
Some would say winning money in online slots is a steal, which is the idea behind Cash Bandits Slots. They took it a lot further than most, however, going all the way to jail in order to make players happy. Playing as a literal thief evading the police while cracking safes and robbing banks, Cash Bandits Slots appeals to players who have dreams of hitting it big in any way they can. With very well drawn graphics, a good mix of gameplay mechanics, and a thoroughly well thought out presentation, Cash Bandits Slots is a game most people will enjoy, and a few people might even count as their favorite. It receives our wholehearted recommendation, and there is not much we can fault it for.
Premise
Everyone wants money, but some people are willing to risk it all to get it. This is a premise right at home with slots, taken to another level in being willing to steal the money itself from vaults and banks. It is all very clever, and only feels more fitting the longer you stare at it. This game is more sided with thieves than the police, but then again, in a situation like this where your own money is at stake, the one that could potentially come out with more money in the end is the fitting party to place as the protagonist of a slot. Making a slot game about returning money to its rightful owners would not be a reel turner.
Presentation
This is a very, very well drawn game. So much love and care went into the graphics that you cannot help but smile when you look at it. Whether it be the fill lights shaded on the crook's face, the metal slate of the handcuffs, or the authentically tasty looking sprinkles on the donuts, everything in this game looks really damn good. This is crisp, clean, clear, top tier work at play, and we cannot help but admire it. There are a lot of slots out there which look like they outsourced the art to someone else that further outsourced it to a five year old. This game looks like they hired a professional illustration and humor team to put it together, and plays just as well.
Mechanics
The mechanics in Cash Bandits Slots are all about the chase. Unlocking vaults through a combination of numbers, evading the police, and fighting back are all built into what you match. It is a standard five reel, 25 play line affair, but the way all the mechanics are used in this context, including the cracking of a vault, all work very well and suddenly feel fresh and clever. It is like slots were made for this theme. Even though some of it is standard to the genre, it all feels almost like a video game itself in the way it all comes together with the graphics and gameplay. This is not something that can be said of many slots, which feel more like a slot machine with random images thrown on to differentiate them. A lot of time went into this game, and the play of it does not disappoint in that regard.
Likes
+ Best theme we may have ever seen + Gameplay fits perfectly with the graphic elements + Everything about it works very well together + Professional production values
Dislikes
- Not a thing
Conclusion
Cash Bandits Slots is really good. It looks great, it plays great, and even manages to be clever in a genre filled with games that at a certain point all look the same. Stop what you are doing, and go play Cash Bandits Slots to see for yourself. If you do not have a good time, having fun in general is probably not for you.