Crazy Vegas Slots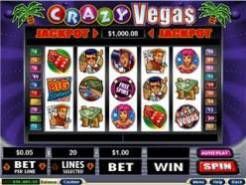 Current Jackpot
$5,313.63
Play Now
Crazy Vegas Slots is a fairly standard entry in a crowded genre that still manages to stand out by how thoroughly they embraced the premise and went with it without a care in the world. Going to Vegas itself is very costly, time consuming, and expensive. You can get by without any of that by spending all that extra money on gambling itself, likely coming out the other end with more winnings than you would have otherwise, and in less than half the time. We recommend this game to all players, and have a hard time thinking of someone that would not enjoy it.
Premise
In Crazy Vegas Slots, you are basically pretending you just landed on the strip, rolled up to a slot machine, and are ready to let it all ride. Games themes make an appearance here as what you match, making it relatively meta in its presentation, and will likely make you smile in how well it is all included. Although you do not actually play these other games themselves, you do win enough money to make up for that, and it all makes you feel like you really could have a taste of Vegas from the comfort of your own home.
Presentation
This is a very crisp and clean game that a lot of love went into. You cannot help but look at the symbols for Blackjack and the Roulette wheel and not have a slight smile on your face. Even show girls and Elvis impersonators make an appearance, which is a welcome touch that will remind you a lot of the Strip. There is not much to hate here regarding how it was presented, and it is all very well executed in an admirable way.
Mechanics
Crazy Vegas Slots is a game that lots you choose how many lines you want to play on each spin, whether it be one or 20. Betting here is fairly low key, each line having between a cent and 25 cents you can contribute. You call play all lines if you would really like, and the maximum bet would only be 6.25 coins, making this on the lower end of betting and very accessible. Free spins appear fairly often on three of the reals, with the first two reels being for that, and the third being a multiplier. Progressive jackpots also make a welcome appearance, having a random chance to appear after any spin, and can grow quite high. You will most likely play and play as you watch it skyrocket, and keep going in hopes of getting lucky and landing it. Multipliers also get quite good, ranging from 45 to 300, which is really, really good for the genre. The standard tends to be much lower, in the 10 range for some.
Likes
+ The theme is absolutely perfect + Betting is very low key and accessible + The progressive jackpot is insane + The graphics are pretty good and a lot of care went into them
Dislikes
- The gameplay is somewhat standard - Betting tiers are a little low
Conclusion
Vegas is arguably what started it all when it comes to slots. For that reason, you will have nothing but fun with this game that goes back to the popular roots of modern gambling, and brings it to you in the comfort of your own home. If you are a fan of Vegas, winning money, show girls, and the culture of the Strip, you will love Crazy Vegas Slots and everything it has to offer. We recommend it for players that love gambling and enjoy their time there, and only caution that you use it responsibly in fear of becoming addicted to the progressive jackpot.