Caesar's Empire Slots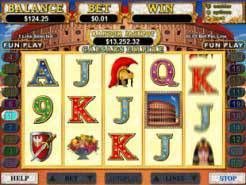 Current Jackpot
$1,085.08
Play Now
Set in ancient Rome, Caesar's Empire slots sees you taking on the role of the once great leader as you win all the money you can for your glorious empire. Being historically themed, and monetarily enticing, this game is thrilling for players of all kinds looking to win it big and have some fun. This is a game anyone can get into, and will keep you playing for some time, earning our wholehearted recommendation.
Premise
Set in ancient Rome, you slot in front of the historic coliseum trying to win as much money as you can to fill your coffers. It is all fairly standard in all ways but the theme, but the theme is very fitting here, making it a prominent piece to the action that you are unlikely to see anywhere else.
Presentation
This is where the game really shines. It looks absolutely beautiful. The graphics are professional, clean, nicely rendered, and stylized to look like ancient Rome. Standard card and suit mechanics have a lot to do with what you are looking at, but it all is varied enough from what the typical fair looks like that anyone will love looking at it even if they can keep themselves from playing it. The backgrounds also look almost hand painted, giving the whole thing a loftier style that keeps it from feeling very cheap or peasant like, which is a common complaint for games in this genre.
Mechanics
Being a standard five reel slot, there are 20 lines, and untold treasures to win with every spin. You match far more than what you are used to, swords and shields and accurately drawn Roman helmets making an appearance here. Caesar himself also makes an appearance as a symbol, appearing on the first four reels of the game. He triples any prizes you may win if part of a winning combination, making his appearance highly sought after and anticipated by players. A progressive jackpot also makes an appearance, and is accessible no matter how much you bet. Autoplay also shows up as you would expect, and is a welcome touch for games of this kind. Bets range from one cent to $5 per line, having many increments in between, making this very accessible to newcomers and those that more on the timid side of gambling. Still, it is hard to put down, and you will soon find yourself betting as much as you can in hopes of winning a Roman's share of prizes with every passing spin. You can also match Coliseum's and Cleopatras during free games, which makes for an exciting twist during bonus rounds that you are bound to win in record number.
Likes
+ Nice theme + Very well rendered graphics that show a lot of care and love went into them + Multipliers come around pretty often + Progressive jackpot makes an appearance + Autoplay is always welcome
Dislikes
- More could have been done with the theme - Betting amounts are all on the lower end
Conclusion
Anyone will like Caesar's Empire Slots if they give it a try. Having accessible mechanics and a well done theme, it is an experience like no other. The betting amounts are small enough that you will never feel too pressured, and the progressive jackpots and multipliers will still have you feeling like you could soon be rich with every passing spin. We recommend everyone give this slot a try. You will not be disappointed, may get a little sucked in, and will likely come out the other end a little richer for it, much like Caesar would have wanted.